By Stephan Berwick
The atomic energy that powers the most accurate time-keeping in the world also powered what once stopped time and marks the history of Seiko and Japan. WWII came to a close with the dropping of the first atom bomb on Hiroshima, Japan, which literally stopped time-keeping on clocks and watches in the areas destroyed. Preserved in the memorial museum of today's Hiroshima, one can see first-hand a startling preservation of a mechanical wrist-watch with its body survived, but its heart stopped at the time of the fate-changing atomic blast, at 8:15 am, August 6th, now remembered as Hiroshima Day.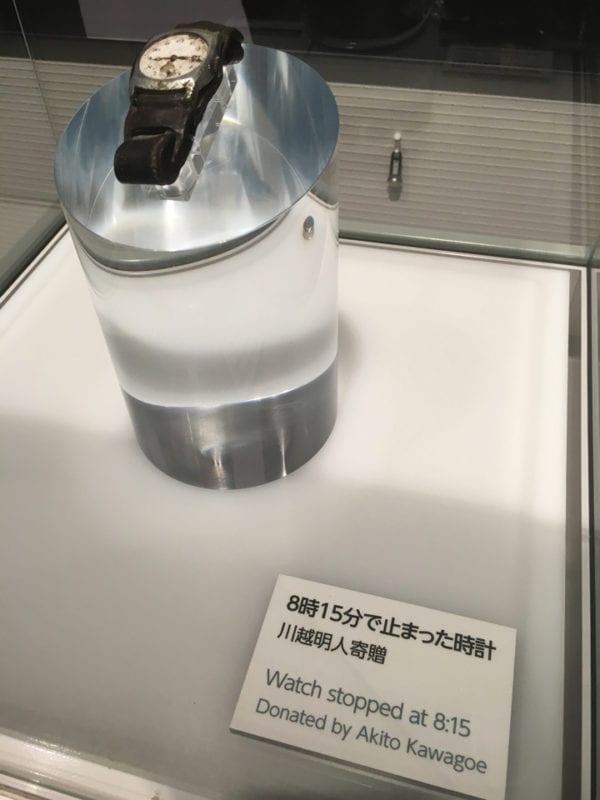 Watches are important relics of how time seemed to stand still after the dropping of atom bombs on Japan.  But watches are also evidence of how time continues and when captured in the form of a watch or clock, can display the past and present.  From the dark image of a white-dialed watch whose heart died permanently at a time of unprecedented destruction, is where the story of modern Seiko should begin. Because while the heart of this watch stopped, preserving its death for posterity, Seiko's heart did not, preserving far more of Japan's soul than most realize.
Evidence of this can be seen by an important expression of modern Seiko, shown below.  Their atomic clock parked in the lobby of the Hiroshima's central memorial museum, continuously measures the passage of time since that fateful bombing of Hiroshima.
While the high-tech clock captures history in atomic time measurement, more so it is a statement of Japan and Seiko's survival post WWII.  Seiko evolved from its early history in the 1800s to emerge as one of the most influential watch-makers in just about twenty years after Japan's destruction,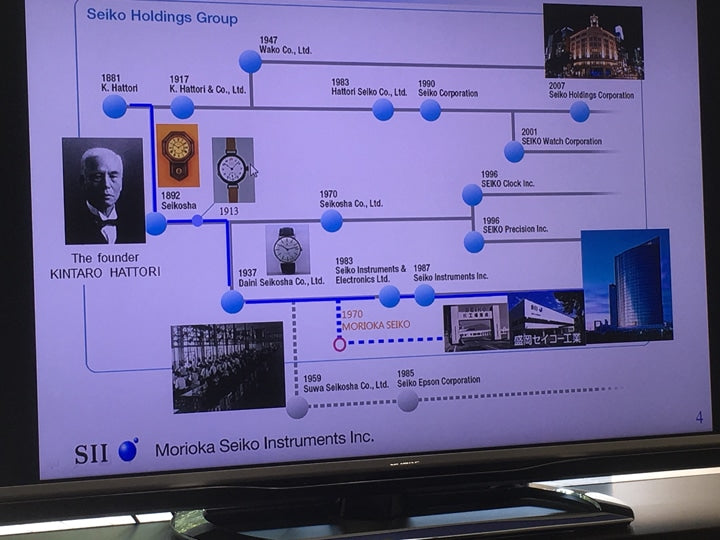 My homecoming with Seiko
As a military and sport watch collector and now a devotee of Grand Seiko and Prospex Divers, my July 2017 visit to the Seiko factory in art-rich, Morioka, coincided with my personal home-coming to this country and culture that first bred life into my Asia-heart. Since my teen-age years, East Asia has been a fundamental part of my life and soul, beginning with my time as a high school exchange student in Tokyo, back in the 1980's. While I've been back to Japan numerous times since, I had not been back in well over a decade. I visited now as co-leader of a group of parents and their 12 year olds, including my daughter, (who as her older brother did a few years before), are Japanese language immersion students in the DC area, traveling to Japan for the first time as exchange students. So for me, this return to Japan was highly personal – coinciding with my past, my children's present, and my future related to Japan. And that future is fueled by my love of watches, which Seiko personifies in ways that those who really know Japan and/or watches can best appreciate.
My journey to Seiko began on the Ginza – Tokyo's famed, luxury shopping district, with amazing watch boutiques, including the Seiko Premium boutique. I was particularly interested in the Tokyo Seiko boutique-only watches, of which here are the current, a classic Hi-Beat and a very cool, dark blue, Spring Drive chronograph, which whet my appetite for more.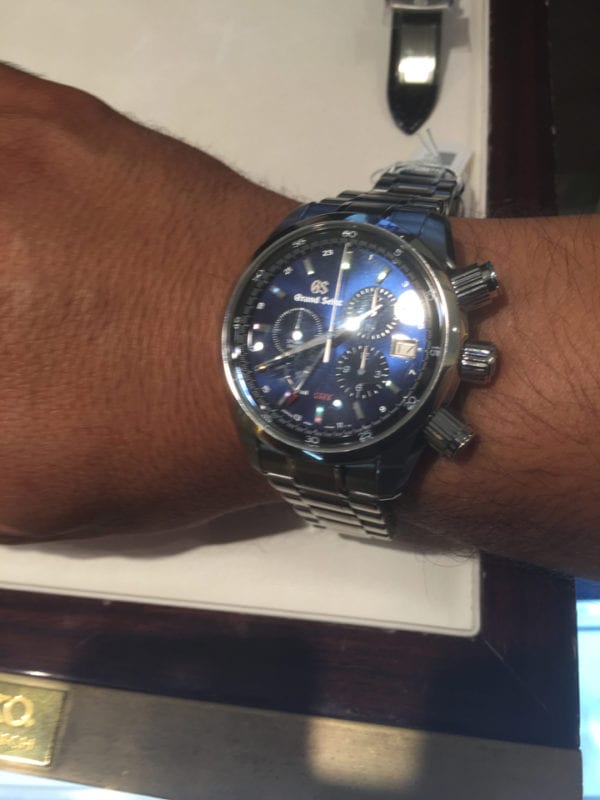 A few days later, on the Shinkansen (Bullet train) from Tokyo to Morioka, I traveled to the source – Seiko Instruments – the famed manufacturing complex that produces Seiko's amazing mechanical timepieces, including most Grand Seiko and Credor. The 2.5 hour journey was a peaceful trek that gave me a break from the breakneck pace of Tokyo. With glee I wore my glorious, burgundy dial, Hi-Beat GMT LE, (made in Morioka and acquired from rising Seiko authorized dealer, Little Treasury Jewelers in MD), for the pilgrimage.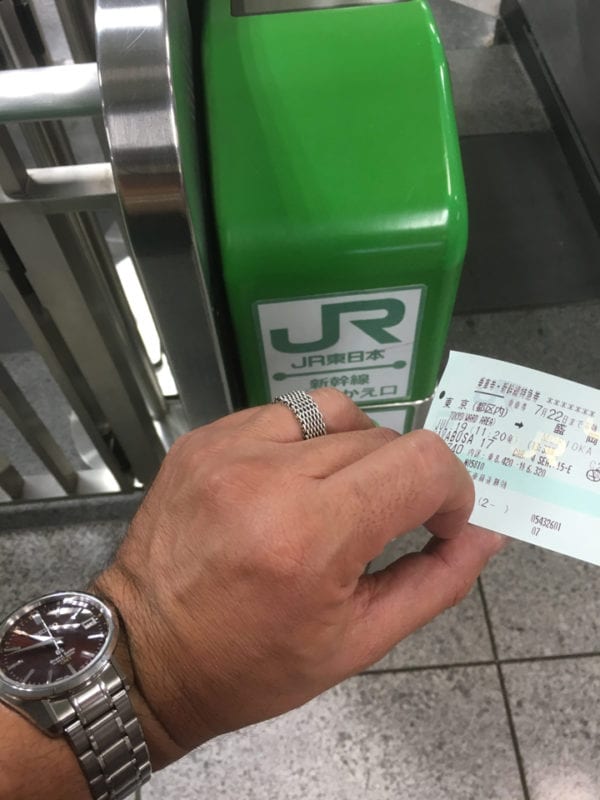 Like time itself, Seiko embodies how culture, tradition, and craft survive and thrive even against the challenges that man and nature impose. My cab ride from the Morioka train station to Seiko was a mini tour into suburban Japan, which caused me to consider why Seiko chose this locale decades ago for its core manufacturing facility.
Upon entering the front doors of such an important facility, a lobby museum greets, showing all that was and is Seiko at its best – including a large screen with a personal welcome to me.
Walking around the lobby museum, an enlarged movement from Seiko's ultra-premium, Credor line is shown, tiny parts from its top-secret Micro Parts factory (on the campus, but not open to the public), and other delights are displayed. Seiko has long been a fully verticalized, completely in-house manufacture, in ways only a very small, elite number of watch-makers can boast.  The below model shows the scale of the Morioka campus, which is not evident upon first entering the grounds. Photos of Seiko's other facilities are featured as well.
After just a few minutes in the lobby alone, Seiko makes it clear that their product is built entirely in-house, from advanced hair-springs to incredible hand-crafted and finished hands, cases, bridges, screw, gears, etc, all executed from the inspiration of ancient standards of Japanese craftsmanship and themes, inspired by its locale in Iwate prefecture, a region with over a 1000 year history in hand-crafted arts.  Exhibit pleasures include:
A skeletonized Mickey Mouse clock!
Grand Seiko
Credor

Rare, Credor chronographs!
Prospex
Galante
Olympic  Timers
Mechanical Micro Parts
A crazy wooden clock!
With all the horological greatness the museum offers, two exhibits stood out to me. The first is the display of the Swiss recognition that Seiko earned. Most don't know that Seiko is the only non-Western watch manufacture that is held in the highest regard by the very best of the Swiss watch elite, including the esteemed Phillip Dufour, who is not only revered by Seiko's best watchmakers, but who equally respects Seiko, from their early relationship with him as a mentor.
The second display I noted is an exhibit of the Shizuku-ishi Workshop "Build to Order" watches, that feature a rarely seen, high-end mechanical chronograph as one of its offerings.  Each watch, which is custom ordered at a price point of about $5000-$7000 and requiring a 3 month wait, is labeled "Shizuku-ishi" on the dial – super cool and super collectible – especially now that high-end Seiko watches are fast growing throughout important foreign markets such as the U.S.  Grand Seiko, Prospex, and many ultra high-end Credor watches come from the hands of the proud and incredibly skilled, master watchmakers of the prestigious Shizuku-ishi Workshop.
Another fascinating aspect of the Morioka facility is how the region's ancient artistic mastery and tradition are integrated in the manufacture.  The construction of the work-benches/desks for the prestigious, Shizuku-ishi Workshop watch-makers, are produced by local artisans of ancient artistic lineage, boasting wood-working of the highest order as seen below by the beautiful chest exhibited at  as part of a display of local hand crafts.  (See following shot with the desks in the background.)  Amazing stuff.
While photos are usually not allowed in the tour, I was shown their incredible 24 hour, quartz movement manufacturing department, which supplies most fashion brands, its hand-packaging office, staffed by just two meticulous women, their testing chamber, (where all Grand Seikos are tested in at least six positions), employee-led constant improvement charts, and finally, the famed Shizuku-ishi Workshop
I was lucky enough to meet the director of the studio, who while declined to be pictured, was a down-to-earth fellow, who really appreciated my Hi-Beat GMT LE, which he declared was the only one he'd seen on the wrist of a non-Japanese. Very cool. He also shared how increasingly the U.S. market is now demanding Grand Seiko watches, which is very important for collectors to be aware of.
Kindly, he called two of the senior artisans of the studio from their large, gorgeous, hand-made, wooden desks to take a photo with me. The gentlemen on my right is responsible for hand finishing of Grand Seiko and Credor cases, and the young lady is responsible for crafting the amazing hands used on Grand Seiko pieces.
This unplanned, fun photo-op concluded my tour with the attentive guide who is the public affairs officer. (Tours can now be arranged online on the Seiko website, of which she manages.)
Her warmth and welcoming closed-out this thoroughly satisfying visit to the wonders of Seiko and the wonders of one of my homes – Japan – a country of high art, culture, and technology that Seiko perfectly embodies.
Stay tuned for more horological surprises from this grande maison….